So. I know there are quite a few people reading this here blog, even though you haven't commented
or officially followed
it (I have recently added a "Join this site" button on the right sidebar, though, if you'd like to). And I'm okay with your lurking, except for today, because I need you.
You see, [not really due to any choice of our own, but due to a leak we discovered in
our roof] our house renovation projects this year
have focus
ed on the exterior
. We [and when I say we I mean AD, at least physically] re
placed a part of the roof, all of the siding, and rebuilt the top of the chimneys. We have contractors coming out to install glass block windows and level the concrete on the side of our house in the next few weeks. Besides that, [I hope] o
ur final project for the year is to paint our front door and shutters.
This is where you come in, because AD and I have been round and round for months on what color to paint the shutters and front door, and we haven't been able to
come to
a decision. AD has now
told me that I need to have the color(s) picked out before we meet at the hardware store during my lunch break tomorrow to buy paint. Considering that the last time AD sent me to pick out paint--the general color of which we had agreed upon--he hated the particular shade/tone I picked.
Some information that may help you in forming your opinion:
as you can see in the photo below [taken on the day we closed on our house two+ years ago],
the brick is whitish-grey, the siding and garage door are white, and the gutters/trim around the garage/
soffits are a bluish-grey. The trim has to stay bluish-grey, but painting the garage door isn't out of the question.
We are planning on replacing the roof next year, and the shingles will be a darker grey architectural shingle.

We want the door to be an actual color--not white, grey, or black. We've talked about cranberry red, sage-ish green, or wedgewood/midnight-ish blue.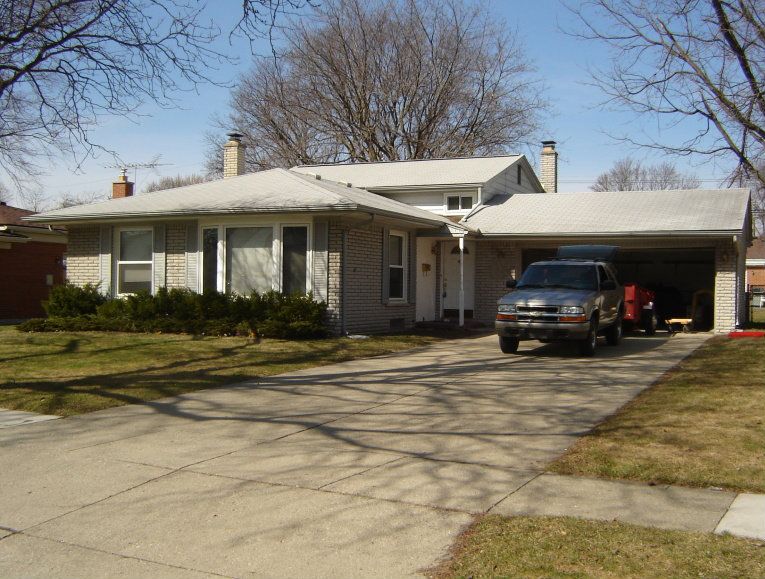 The photo below is from spring of 2011, when AD added a flowerbed along the side of the driveway, replaced the red pavers on the porch with grey/taupe ones, and removed the pole at the corner of the porch (and LG was a teeny 4 months old!).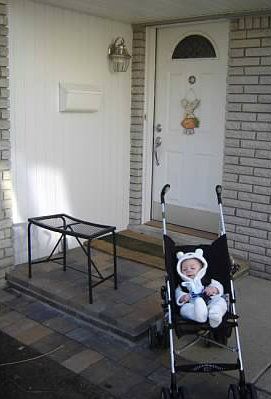 So tell me, what color(s) would you paint the door and shutters?